Our Story
Unytouch Manufacturing is a manufacturer / distributor of specialty point of sale products, such as all-in-one systems, touch screen LCD / LED, mobility products, POS solutions and kiosk solutions.
Unytouch provides access to a large North American distribution channel of re-sellers in order to market these products to the end-user. Since our inception over 30 years ago we have been committed to selling to VARs andproviding custom, opportunity based production runs. We are always a partner to our re-sellers and customers, never a direct competitor.
Having deep inventory levels helps ensure products are delivered promptly and provides value-added services and support.
We are proud to have advanced each and every successive generation of product, improving function, reliability and serviceability. The name Unytouch has been synonymous in our industry with quality and dependability, garnering sustained loyalty and support from our clients.
Company Profile
With over 30 years of experience behind us, Unytouch has evolved to become a recognized industry leader in the design and manufacture of leading edge LCD/LED flat panel touch monitors and All in One Point of Sale terminals, with distribution and service throughout the United States of America and Canada.
Unytouch focuses on the production of various touchscreen monitors, all-in-ones and panel mount/kiosks which include 15, 17, 19 and 22″ standard display sizes. A vertically integrated company, Unytouch manages all key components of our monitors including LCD Modules, Touch Sensors as well as all associated electronics, ensuring the highest levels of product quality and reliability.
Enhancing our extensive manufacturing capabilities, Unytouch provides in-house warranty support and repair service logistics, with several customer oriented service programs available. Conveniently located in our U.S. head office in Grand Blanc and supported by our Toronto, Ontario based service center, we provide our customers with an unparalleled level of quick turnaround service across North America.
Unytouch specializes in providing state of the art intuitive P-cap/Resistive TFT LCD touchscreen monitors to an extensive variety of markets, as well as meeting the unique challenges specialty applications require. With a unique focus in delivering cost effective, adaptive products that are driven by top quality components and insightful design, Unytouch products are designed to excel.
Backed by an unmatched warranty, with an industry leading national support and service infrastructure, Unytouch delivers the hardware to make the most of your digital world.
With a clearly defined and targeted sales and marketing strategy, and a nimble business model that allows for quick response to the ever changing industry landscape, Unytouch all-in-ones and touchscreen monitors outperform the competition in a multitude of challenging environments
No matter the application, you can count on Unytouch delivering leading edge technology that meet the rigorous demands of various P.O.S markets.
Hospitality POS
When it comes to fast paced hospitality environments, speed and accuracy are of utmost importance. Rarely is there room for operator error, so many businesses rely on touch technology to provide human interface between man and machine.
In an industry where hospitality sector profits come under extreme pressure, Unytouch has addressed long term concerns such as durability and reliability with the latest in innovative design. An ultra thin enclosure which occupies minimal counter space also features a highly transmissive 5 wire resistive touch sensor that can accurately keep up with fast paced operator input. The flexibility of our accessories allows for secure and stable vertical or horizontal mounting options depending on your specific needs.
Retail POS
The retail sector places significant value on increasing employee productivity through faster purchase procedures or reducing customer wait times in areas such as customer service. In order to achieve this goal, most retailers have moved completely away from manual input to a world that embraces touch enabled input devices such as self check out stations.
Unytouch understands the retailers need for attractive, adaptive terminals and have designed our products with that in mind. Our seamless integration of peripheral devices such as 3 track MSR's increase the speed of every transaction. By simply swiping the customer's credit card through the MSR securely mounted to the monitor you will increase productivity and save precious space by not having to utilize a remotely mounted device.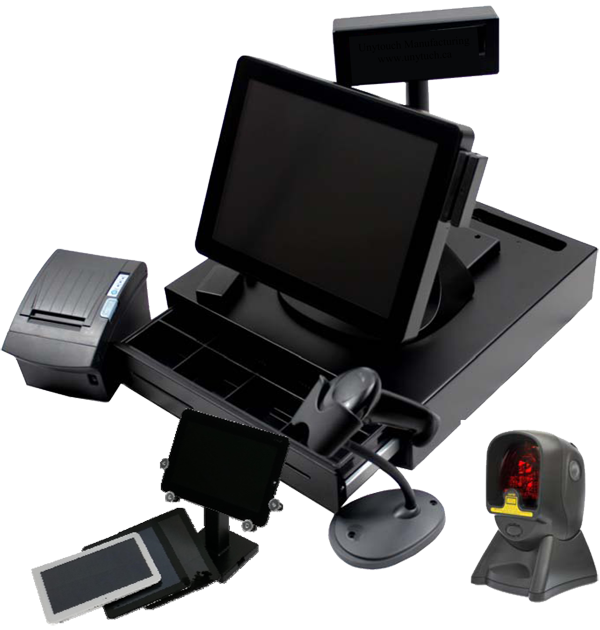 Our products line includes:
Touch Screen Displays
POS Terminals
POS Computers
POS Printers
POS Accessories
Cash Drawers
Tablet and Pole Mounts
Kiosks/Panel Mounts
Accessories
Capabilities:
Touch Integration
Metal Fabrication
Custom Cabling
Surface Mount Manufacturing
Custom Electronic Design & Development
White Box Program
Custom Branding